Prepare for the Perfect Winter Getaway Staying at Cozy Cabins in Branson, MO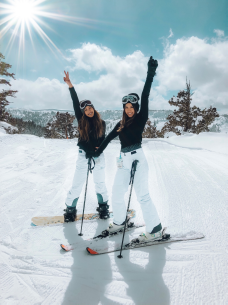 The Ozark Mountains is well-known for its perfect summers and mild winters. This is why tourists often flock cabins in Branson, MO regardless of the season. And this winter, Branson offers an abundance of fun activities that your family will surely enjoy.
Why stay in cabins in Branson, MO?
Branson resorts never run out of guests, even in the winter. The city's breath-taking and picturesque location is enough to attract families from all over. Nestled in the heart of Ozark Mountains, Branson boasts more than a dozen attractions, museums, parks, and dining options to please just about everyone.
Best of all, Branson experiences little snowfall and mild temperatures, which makes it easier for tourists to enjoy every activity the place has to offer. There's also the added pleasure of discounted prices and seasonal treats that can make your winter truly magical.
How to prepare for your Branson winter getaway
Though Branson very seldom experiences heavy snowfall, it still pays to bring winter clothes and a car window scraper, just in case. It's sensible to wear layers of clothing so that when the temperature begins to rise (as is often the case from winter morning to noon), you'll be able to rock lighter layers.
Lodging and transportation should not be a problem, because the city offers plenty of those. Finding good Branson lodging is also easy. You can stay in a cabin in the quiet woods, or at lodgings overlooking the pristine lakes, or at cabins allowing you to see the majestic Ozark mountains right at your doorstep. 
Most of the cabins come equipped with all the amenities to make your stay as luxurious and comfortable as possible. Just book one of these lovely and cozy lodgings in Branson, MO and you are all set for your winter getaway.
Enjoying winter activities in Branson
The current times might have pushed people to safely stay indoors. If this is the case, then doesn't staying in a cabin located in the Ozark Mountains seem like a good idea? It can help you relax and get lost in the beauty of nature. With a hot cup of coffee and a good book in your hand, Branson offers the perfect escape from the stresses of the outside world.
But if you're the type to get bored staying indoors, Branson has some fine and historic areas to explore. You can visit the Branson Centennial Museum or the Veterans Memorial Museum to get a glimpse of the place's history. There's also the Talking Rocks Caverns for those who are fascinated with ancient stories.
Another activity that you can try is winter fishing in any of the three pristine lakes in Branson. You can fish for fun or join the numerous fishing tournaments that are being held in the area.
What are you waiting for? Start planning your winter getaway today. Contact Branson Regal at 1.417.203.0402 now and reserve any of the Branson cabin rentals, luxury condos, and private homes for the perfect place to stay during your vacation.